These Solomark night vision binoculars are beefed with multiple features that allow the product to be used under different conditions, but they're a dream come true for hunting enthusiasts.
Here's a breakdown of what to expect: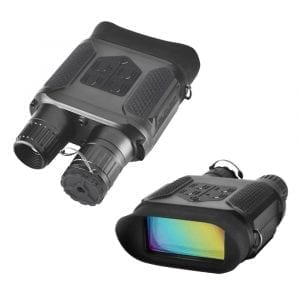 These binoculars feature a built-in 3W infrared LED and an 850nm illuminator, allowing for a solid display range for distances up to 1300 ft., or 400m.
The product's IR can be switched on or off depending on use at day or night time.
You can also transfer your images to your computer or view them on your TV with the help of a USB cable that comes with the binoculars.
This product allows you to see at long distances and delivers on what it promises – an excellent display at night time.
It offers up to 7X magnification in the darkness, but the display quality gets compromised and pixels start to give way at longer distances.
But if you really want to improve the optical imagery, you can always buy a night rifle scope that will allow you to view 1080p images/video.
Sadly, the night rifle isn't included in the package. So, if you decide to go for it, this product might end up costing you a lot more.
Back to the goodies…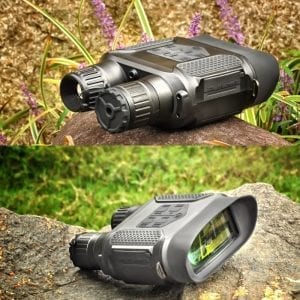 Nevertheless, the 2X digital zoom and 31mm objective aperture of these Solomark binoculars offer you a top-class overall viewing experience.
The product also comes with a 4GB storage card for your photos and videos. Plus, the storage capacity is upgradable to 32GB
And, take our word for it, you're going to want go ahead and just add the bigger SD card into your cart at the same time so you have it when your binoculars arrive.
They're super affordable.
However, we do feel the product could've offered storage capacity of up to 128 or even 256 GB.
But let's be honest.
You're probably not going to save that many images at once. You can always transfer them to your computer when the storage is full.
These binoculars are excellent for hunting purposes because they're sturdy and allow you to see quite clearly at nighttime. They also come with an infrared sensitive CMOS sensor and a fully multi-coated optic lens that increases light transmission of the objects and decreases glare for better image quality.
Are they just for hunters?
Nope.
You can also use these binoculars for fishing, bird-watching, surveillance purposes, and even for simpler tasks like watching concerts or sports.
This product operates using 8 AA batteries that aren't included in the package. It comes with a 4GB card, a USB cable, an AV cable and a pouch for safety and traveling.
Features:
Large viewing screen
Built-in 3W Infrared LED, 850nm Infrared Illuminator
5MP Photos and 640p Videos
Optical clarity even at long distances up to 1300ft/400m
7X Magnification, 2X digital zoom, 31mm objective aperture
4GB Storage Capacity; upgradeable to 32GB