Looking for a high tech darts option?
The Dartslive-200S may be the board for you.
Taking advantage of safety and tech, this board makes a great addition to your man cave or for your children.
The dart board comes with two sets of soft tip darts (six in total), additional soft tips, a USB cable, screws, and anchors.
The first thing you'll notice when unboxing this one is how the board has thousands of little holes. When you throw your dart, the holes will register your shot and score accordingly.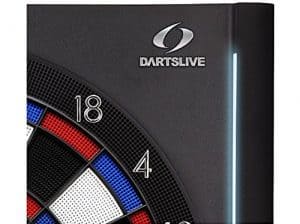 With many electronic dart boards, scoring can be quite painful, with the screens often hard to read or decipher. This board differs by making you download an app (available for both iOS and Android) which manages the scoring for you.
Our testing proved the app to be easy to use and understand. There's even a range of stats to analyze your gameplay and rate your performance.
The board connects via Bluetooth. It does require power but uses a minimal current through the provided USB cable. It can be powered by a computer, TV, or the mains.
The board is quiet, making it easy to play night or day.
We did find a drawback though…
You cannot connect and play others via a network or over the internet, which some electronic boards provide.
If you're feeling particularly daring (or have too much money to spend), you could do what we did in testing, and mount an iPad next to the board as a live, high-quality score screen.
Specifications
45 x 20.87 x 1.63 inches
Comes with board and soft tip darts
Ten spare tips to prolong dart life
Electronic board
Connectivity, scoring, and statistics through DartLive App