Next up is this high-tech option from SKIL. It's great for those requiring a professional machine with high performance and top tech, but keeping it nice and simple to use.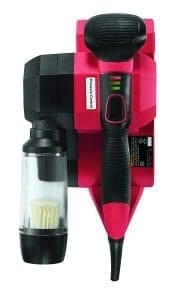 This 6-amp sander comes with pressure control technology, letting you know when you've applied too much pressure on the surface you're sanding. In testing, we found it to be accurate and warned us before we found ourselves making unwanted indentions in our sanding surfaces.
The sander is also designed to keep itself relatively centered and on track. We noticed this made a big difference when it came to finishing our projects accurately.
We liked the dust canister which is completely clear, meaning no guessing when you have to empty it.
Replacing the sandpaper was simple with a simple lever release. The sander is also relatively light, making maneuvering the device nice and easy.
The manufacturer also provides a handy one-year warranty and a copy of the owners manual available free, from their website. .
Specification Sheet
7.5 pounds
6.6 x 13.8 x 6.5 inches
Translucent dust catcher
Pressure control technology
Auto track system
One year warranty.