When it comes to footwear, Skechers is a well-known brand. All of their most popular products are sporty and comfortable, but they also make work shoes. These Men's Verdict Boots are among the most highly rated products for working men. Waterproof, sturdy and warm, they make for an excellent choice for those who have to deal with bad weather conditions.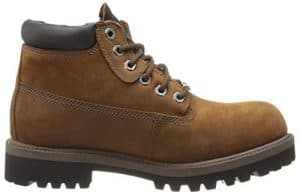 The uppers of these shoes are made from high-quality leather, which makes them completely waterproof. Add to that a very sturdy construction and you get yourself a pair of highly durable boots. Thanks to their rubber outsole, they're of great help in preventing you from slipping while walking on smooth or wet surfaces.
But wait, there's more:
Since the insoles of these Men's Verdict Boots are padded, your feet won't get tired as much. They have a padded collar as well, which adds to the comfort, but also keeps your feet warm during the colder months.
Now get this:
If comfort is at the top of your list, you might want to keep looking, since many customers report these boots get uncomfortable after a couple of hours on the job. They also don't have reinforcements, which makes them a less than ideal option for construction workers and people who are in danger of hurting their feet while working. It's a real shame since they do an excellent job of keeping water away from your feet. And lastly, we've found it takes some time to put them on because of the lace-up system, so you can't really use them for quick trips to the garage and the like.
Features
Leather upper
Padded insole
Rubber outsole
Padded collar