Skechers is a company popular for making high-quality stylish shoes, but they also don't compromise when it comes to comfort. The Skechers for Work Women's Sure Track Trickel Slip Resistant Shoe is a prime example of style and comfort combined.
Made from a combination of leather and synthetic materials, these shoes are durable and flexible. The upper is leather, which means it's comfortable for your feet, as well as durable and capable of giving a snug fit. The lace-up closure allows you to make the shoe as tight or as loose as you want.
Guess what: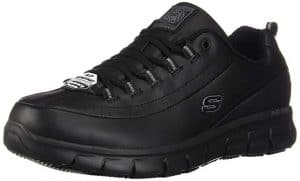 The Skechers  Sure Track Trickel shoes are  low cut, which gives you freedom of motion. There's a high-quality memory foam insole inside the shoe which provides great cushioning and support. If you need something for your particular foot issues, you can always remove the insole and put in something like the KEEN Utility K-20 Cushion Insole, or these Airplus Memory Foam Insoles.
These shoes also have other features that enhance their value. The EH Safe design enhances safety, and the non-slip, oil-resistant outsole provides traction against slippery floors. And if your feet are prone to sweating, you'll be glad to know that these shoes feature perforated panels on the side that provide cooling.
But here's the kicker:
If you need something extra, there are also a padded collar and tongue to add to the comfort of your feet. The midsoles on these shoes are of a very high quality. They're FlexSole midsoles that are shock absorbent and flexible. The shoes are also easy to clean and maintain – our expert says an occasional wipe-down is enough to keep them looking great for a long time.
However,
There are a few downsides that we've found while researching the Skechers Sure Track Trickel shoes. Namely, some users report the area of the heel is too narrow, although we've found not many people share this opinion. It's also worthy to note parts of these shoes are leather, so they need a short period of time to loosen up.
But wait, you must:
Read some comments by women who've worn these Skechers.
Alie has gone so far as to call them her Holy Grail of footwear for going to work. And she's been a bartender for the last 15 years, so that has to count for something. Among other issues, she's had knots in her feet and chronic pain in her soles. She claims these shoes have made a world of difference in how she feels while working, most of the pain being gone.
Of course, this doesn't mean this model is the best option for everyone, which can be seen from what Heidi says about them. She feels the uppers are too hard, while the soles lack padding. All considered, the shoes aren't nearly as comfy to her as they are to Alie. She says she wouldn't recommend them.
Features:
Leather / Synthetic
Durable
Synthetic sole
Memory foam insole
Leather upper
Lace-up closure
Perforated side panels
Electrical Hazard (EH) Safe design
Slip-resistant outsole
Padded collar
Padded tongue
Removable insole
FlexSole midsole