For a time, Skechers were more popular among teenagers than they were among adults. With their Work series, however, they've started changing their customer base to accommodate pretty much everyone. Shape Ups are a model that promises high levels of support and comfort, as well as protection from mishaps. Let's see if it delivers.
Made from quality leather, the uppers on these shoes are durable, but they don't provide as much ventilation as some other models on this list. They are perforated, though, so it's not like your feet are incapable of breathing while wearing them. The midsoles are made from EVA foam, which is a material known for being tough, yet comfortable. This is also the part of these shoes that provides almost all the support, which is enough for most.
But that's not all: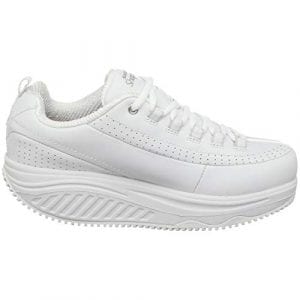 The interior of the shoe is lined with fabric to make them more comfortable for all-day wear. But what we liked a lot more than that were the padded tongue and collar, which really add to the comfort. Also, the heel is equipped with a nylon loop that can be used to put the shoes on and kick them off with ease. Doesn't sound all that important, but it actually saves both time and effort.
It gets better:
These shoes are both EH- and ASTM-approved. Standing for Electrical Hazard, EH ratings tell us how our footwear would behave in the event of, let's say, a short circuit. The fact that it's EH-approved means that this shoe keeps its wearer safe from injuries. It's also less likely for their wearer to slip while wearing these shoes, which is what ASTM ratings stand for.
Now:
Let's talk about what we believe are the cons to owning these shoes. During our research, we've found that people with wide feet have trouble finding the right size. This is a very common issue with shoes, but it's still important to mention. Also, the outsoles aren't glued as well as you'd hope them to be, so there are numerous complaints about them separating from the base of the shoe.
Features
Leather uppers
EVA midsoles
Fabric lining
Rubber outsoles
Padded tongue and collar
Rear nylon loop
EH-approved design
ASTM-approved design