Sizzix eclips2+ owners love this "fantastic" machine that's a versatile replacement for a traditional die cutter. Able to carve letters and unlimited shapes, this machine "revolutionizes" scrapbooking, decorating, stationery design, logo creation, signage production, and more.
How does it do all that?
With an industrial-strength motor and gears ⚙, as well as an easy-to-install blade, the machine carves through vinyl, vellum, paper, cardstock and chipboard in preset and custom sizes. Speed and pressure for cutting different materials are automatically selected.  A few reviewers note that this machine doesn't cut through thick materials as well as it does for thin materials.
This Sizzix eclips2 Starter Kit includes two 12" x 12" mats. Although "very good" and "durable," the mats eventually lose their stickiness as all mats do…but you can always try to "re-stick" the mats using the tips below.
Get this
The Sizzix eclips2+ "works like a charm" to cut and score materials quietly and efficiently. Able to slice intricate detail on projects like doilies, it can cut to nearest 1/100 of an inch. Nonetheless, a couple people advise standing over the machine to watch each cut in order to ensure the mat and material go through smoothly.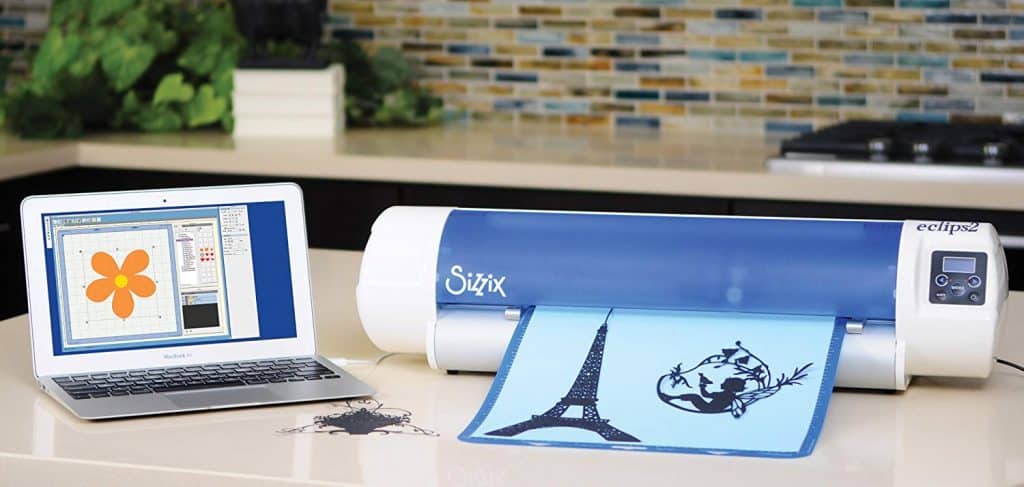 The software's learning curve and quality earn mixed reviews. The cutter comes with eCAL lite software for a library of images and fonts for custom designing as well as accessing TrueType, OpenType and Dingbat/Wingding fonts. Some users find the software easy to use while others need a bit more time to study the instructions and watch YouTube videos. The Laser Cut Preview feature offers a sneak preview of the image before the machine actually starts cutting.
A bump in the road
In order to import designs and use Scalable Vector Graphics (SVG) images, you do need to purchase a software upgrade, which annoys some consumers.
Nonetheless, people really like the freedom of design with the Sizzix eclips2+.
But let's not forget
A convenient feature is Print2Cut, where the machine cuts out a printed color image. Because the Sizzix eclips2+ doesn't automatically detect registration marks on the paper of the printed image, you'll need to line the marks (preferably three) up with the machine's laser manually. The Sizzix eclips2+ does sense white space around a colored design and cuts the image out nicely.
This model's customer support is rated very good. ??
To view an in-depth demonstration and review of the Sizzix eclips2+, watch this video.
Features
Dimensions: 26" x 6.5" x 7"
Shipping weight: 18.21 pound
Includes cutter, universal power supply, two cutting blades, blade holder, power cord, 6" USB cable, two 12" x 12" cutting mats, eCAL lite software download, and user's guide
90-day limited warranty