This innovative electric water heater is great for single faucet use. If you need instant hot water for only a kitchen or bathroom sink, dishwasher, an outdoor faucet, or even a low-flow shower head (although, not recommended), this model is perfect for you.
There are so many good things about this product. It's conveniently sized, easy to install, resists corrosion, and prevents the buildup of limescale, algae, and bacteria.
But that's not all…
The most unique feature of this point-of-use (POU) model is it uses coil-less, quartz infrared technology to heat up only the water you use. This makes it an extremely energy efficient and safe option for you and your family.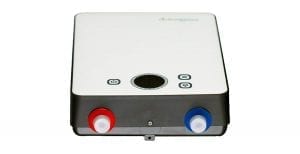 Also, because it doesn't use metal coils like most other electric water heaters, water doesn't come into direct contact with the metal parts. While metal itself is not much of a problem, constant contact with water may lead it to break down after a while. The coil-free technology used in this heater means no corrosion and no buildup of limescale and calcium deposits.
Offering a flow rate of up to 1.5 GPM, the SioGreen IR260 effectively heats water on demand with self-modulating control, which means it won't activate when you're not using any water.
This compact water heater is also maintenance-free and self-cleaning. In fact, it claims to be able to work perfectly fine for over 20 years of continuous use. Think of how cost-effective that is!
For your convenience, it also comes with a digital temperature control so you can set it as you like.
To suit its purpose, this tankless water heater comes in one of the smallest sizes in the market and weighs only 5 lbs, so you can install it in just about any space you want. Moreover, installing it is super easy, and you don't really need an expert to do it for you (although it is always recommended). SioGreen provides ample walkthroughs and installation support on their website.
However, there are some concerns with this model…
The product clearly points out that the incoming water temperature should be at least 72F for a 1.5 GPM flow rate, which means it's not very effective if the water in your area is usually colder than that.
Also, even though you can use it for a low-flow shower head, it's not intended for shower use. You might also face trouble if it doesn't produce enough steaming hot water for your everyday needs at times, such as quickly filling up a bucket.
Overall…
This compact-sized, point-of-use water heater is a great bet for its competitive price. It barely requires any maintenance and has a pretty long operational life. Its resistance to corrosion and buildup makes it a great option for use in areas with hard water or well water. Moreover, it is incredibly energy and cost efficient because it only heats up water during use.
Features:
Quartz infrared coil-less technology
No corrosion & free of maintenance
No calcium & limescale deposits
Save water & energy