Silhouette Cameo 3 Bluetooth owners love this versatile cutter that gives them "limitless possibilities" in crafting countless and diverse projects like personalized labels, customized invitations, signs, plaques, t-shirt designs, wall décor, stencils, automotive stickers, and more.
Featuring a dual carriage that holds two tools at once (e.g., two blades or one blade and one pen), the Silhouette Cameo 3 Bluetooth is very handy to use. For example, you can cut cardstock with the blade ? and then embellish it with the pen ? without having to change tools manually; simply tell the machine which tool to switch to and use.
Speaking of cuts
With automatic adjustable blade settings, the Silhouette Cameo 3 Bluetooth can slice through materials as thick as balsa wood, foam, chipboard, leather, and more. With the Silhouette Deep Cut Blade (sold separately), you can slice through materials up to two millimeters thick. The cutter also has adjustable pinch and spring rollers to hold loaded materials securely. In terms of quality, cutting can be slow and imprecise, although most users find the machine does a good job.
Wait, there's more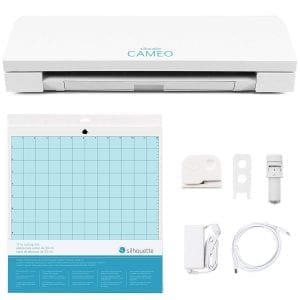 The Silhouette Cameo 3 Bluetooth has an optical scanner for its "print and cut" feature. With this application, you can create a design using the included Silhouette Studio software (more on this later) and print it out. Then take the printed design and feed it into the cutter. The machine's scanner locates registration marks on the printed material and then cuts out your design.
Silhouette Studio, the software that comes with the machine, needs to be downloaded from the manufacturer's site, which some people find "kind of a hassle." Nonetheless, the software is "powerful" and "complex."
This brings up the next point
As with other cutters we've reviewed, the Silhouette Cameo 3 Bluetooth is easy to use for some people while not-so-swimmingly straightforward for others. The machine definitely has a learning curve, and many veterans of this model suggest watching "a lot of tutorials" before cutting. Users concede that "it's not a simple system" but ultimately worth it when you see your final creation.
Many people dislike the lack of hardcopy instructions; the manual is online at the manufacturer's site and available after purchase. As one unhappy buyer notes, you can download the user's manual and print it out–all "118 pages of it!!"
This is nice?
What users do like is that the Silhouette Cameo 3 Bluetooth–with a convenient LCD touchscreen–doesn't have to be connected to the internet in order to operate. This leaves you free to work on projects without being tethered to a computer all the time.
But
When you do want to connect, the cutter's Bluetooth technology allows you to pair it with a computer ?, tablet, or smartphone.  At least a couple of users point out that the wireless feature is convenient but not essential for their purposes. In any case, it's nice to have the flexibility of wireless connectivity.
A few reviewers had difficulty activating the Bluetooth function. This video explains how to connect Silhouette Cameo 3 via Bluetooth technology.
Finally
This starter bundle (which includes project materials like 26 12" x 12" sheets of permanent Oracal 651 vinyl, a 12" x 6" roll of transfer paper/tape, and 24 sketch pens) earns rave reviews. People love having ample supplies to begin crafting right away, like the "amazing" performance-grade vinyl suited for indoor and outdoor applications as well as assorted "vibrant" colored pens.
Features
Dimensions: 22.5" x 6" x 8.5" (57.2 cm x 15.2 cm x 21.6 cm)
Weight: 8 pounds, 15 ounces
Double tool holder
Starter bundle includes cutter, 12" cutting mat, AutoBlade, crosscutter, power cable/USB cable, Silhouette Studio software (download), 100 designs (download), one-month Design Store subscription, Vinyl Application Guide by Silhouette School, 26 12" x 12" sheets of permanent Oracal 651 vinyl, one 12" x 6" roll of transfer paper/tape, and 24 sketch pens
Warranty: One year for parts and labor