The Ghost Hunter Night Vision Binoculars are engineered to meet the highest requirements and standards of the serious, professional user.
They come with the promise of producing high-quality images with a solid resolution.
Now, for the tasty details:
This product has a built-in IR illuminator to light up the objects in front of you and give you better, lively results.
As usual, you can toggle the illuminator on and off to cater to your daytime or nighttime needs.
The best part!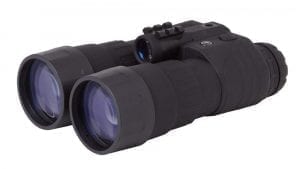 These binoculars offer a 2X magnification capability to give you bright, vivid images of short-range targets in low-ambient light conditions or even in total darkness.
Another great thing about these binoculars is they're super easy to charge! All you need are 2 AAA batteries to operate the product, which are included in the package, by the way. Awesome!
So, yes, you don't really need to spend any extra bucks on power. However, we do recommend you get hold of some Lithium-ion batteries to ensure the better longevity of the binoculars.
These babies are built to last:
Built for a lifetime of use, these Ghost Hunter Binoculars feature an ergonomic design and a lightweight, durable polymer construction to ensure maximum endurance.
The device also comes with an automatic shut-off feature that turns the unit completely off when exposed to bright light sources, saving the night vision tube and ensuring years of operation.
Okay, so here's the real deal…
Our research showed that the image output may become blurry if you don't know how to adjust the front and back focus properly. But we believe if you spend a little more time to learn, you will end up with some pretty good results.
Since these are Gen 1 binoculars, they do have some flaws and limitations compared to other competitive counterparts in the market.
For starters, you can't save any photos/videos like with most modern binoculars.
Nevertheless, this product lets you view objects at a distance of up to 200 feet at nighttime and we have to say, the image quality is highly impressive. The design and packaging of these binoculars may not be extravagant, but the results are nothing less than top-notch!
These night vision binoculars come with a three-year warranty on the tube, so you don't have to worry too much in case something goes wrong. Sightmark's Limited Lifetime Warranty is also applicable to the housing. Win-win!
Features:
Visibility up to 200 feet at nighttime
2X Magnification for bright, short-range targets
Lightweight and durable construction
Ergonomic design
Powered by 2 AAA batteries (included in the package)
Automatic shut-off feature; turns the unit completely off when exposed to bright light sources.