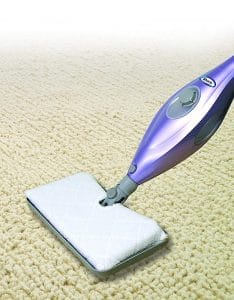 Like a real shark, the Shark Steam Pocket Mop attacks dirt and grime quickly and powerfully. Heating water into steam on demand in just 30 seconds, this mop kills 99.9% of the germs and bacteria lurking on your floor–without any chemicals. The Shark Steam Pocket Mop's super-heated steam is a winner among users.
And:
Users enjoy the mop's swivel steering, ergonomic design, and soft-grip handle for comfortable cleaning. Even better, the two washable microfiber pads that lift and lock in dirt provide double-sided cleaning. To purchase replacement mop pads, click here.
Want more information? Stick around and watch this visual tour of the Shark Steam Pocket Mop.
Features
Weight: 4.87 pounds
25'-long power cord
Dimensions: 2" x 12" x 5.9"
Includes two microfiber pads