Shark products are usually high quality, affordable, easy to maintain and generally my favorite among vacuum brands. Number 11 on our list of best vacuums for your tile floors is the Shark Rocket PowerHead. This is a lightweight, easy to maneuver and adaptable based on the type of flooring you need to clean.
This Shark vacuum comes with the ability to exchange the brush roll depending on your need. It comes will all the accessory pieces needed and the two brush roll accessories. There is one brush roll specifically designed for hard floors, like your tile floors.
What do I like the most?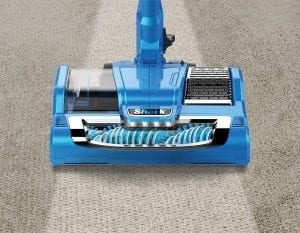 This one is great because it is designed to powerfully pick up all the dirt, even in grout joints, and do so without scratching or damaging over time.  The second brush roll is designed for carpeting. It is a more aggressive design and is meant to beat the dust and dirt from carpets while you clean.
I love that this unit is only 9lbs and has Shark's dynamic steering technology. This makes the unit ideal for small spaces, easy to maneuver around furniture and easy to lift if going up and down stairs. I also love that this makes it easy to store and it still has all the power you have come to expect from a Shark product.
The price tag is one of the cheaper options on our list and it still delivers a quality clean you can count on!
The most common complaint with this unit:
In an effort to make the unit thin, lightweight and easy to maneuver, Shark had to sacrifice the space used by the dust/dirt canister. Users complain most that this has to be emptied more frequently than their larger household vacuums.
While I can see this being an annoyance during cleaning I think the fact that this is so small and the complain IS NOT about the power or efficiency of the unit is actually pretty impressive.