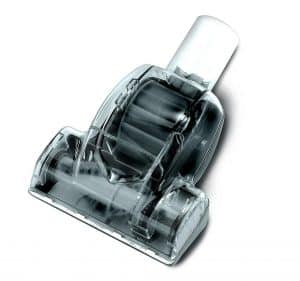 If you prioritize suction power in a vacuum cleaner, this lift-away model is an excellent choice. The Shark Navigator is an upright appliance that can be used like a regular vacuum cleaner. However, its canister can also be detached and lifted, so cleaning hard-to-reach areas becomes easier. The anti-allergen technology and HEPA filter make sure that 99% of dust and allergens stays inside the vacuum.
During our testing, we noticed the suction power of the Shark Navigator vacuum is excellent. It also comes with various tools that make cleaning inconvenient spots easy. However, there's no space on the vacuum itself for all the tools, so they have to be stored separately. The hose is also a bit stiff and short, but the 30-foot power cord makes access simpler.
The dust cup in this vacuum is large, and it can be easily emptied and cleaned. You can adjust the suction level, so you can vacuum small rugs without lifting them. All in all, this is a reliable, lightweight, and powerful machine great for all sorts of applications.
Features:
Lift-away model
Weighs 13.7 pounds
Anti-allergen technology
HEPA filter
Includes dusting and pet hair brush, 2 crevice tools, and hard floor attachment
30-foot power cord