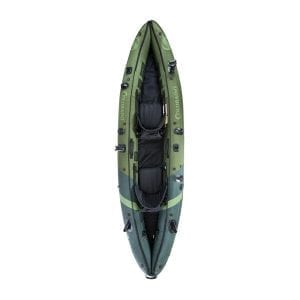 This is the best inflatable fishing kayak on the market. No wonder it's also one of the most popular since it has so much going for it.
Let's take a look.
We loved all of the storage and features on this kayak.
It has a 470-pound carrying capacity, which is plenty for two people and their fishing equipment.
There are five quick setting rod holders for easy hands free fishing.
Additionally, this kayak also has a designated mount for a trolling motor, which could definitely come in handy for some fisherman.
Paddle holders are also there to secure your paddles and keep them out of your casting path.
There's ample foot and backend cargo space on this kayak for all your fishing gear. This is also some side mesh pocket storage available for smaller items. There are D rings for lashing down anything else you may need to store on your fishing trip.
The PVC construction on this kayak is very tough and is known to hold up extremely well against potential punctures--which may be important with all those hooks flying around.
There are a couple downsides.
This isn't a particularly fast or well tracking kayak. If you are looking to get to your next fishing spot fast, you may want to spring for a trolling motor.
This kayak also does not come with paddles or a pump. You should probably also consider some of these outstanding baitcasters.