The sturdy Serta EZ Bed - Queen certainly keeps diverse sleepers "super comfortable" including:
those with a bad back.
pregnant women (e.g., one at 19 weeks who "slept like a baby").
large men (e.g., a 6'5", 200+ pounder who snoozed on it 10 nights straight).
and very picky in-laws.
Easy to climb in and out of, this mattress features 48 separate air cells for comfortable support. In fact, when one person shifts, the bedmate surprisingly doesn't feel the other person's movement.
Uh-oh, what's this?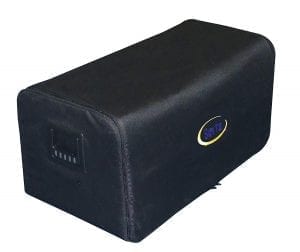 The Serta EZ Bed - Queen's mattress top has deep indentations (instead of a flat surface), which make resting uncomfortable for some. People suggest purchasing a mattress topper to solve this problem, which adds another expense.
How nice!
A bed frame provides even support throughout the entire mattress. The quiet dual-pump system then maintains the mattress' air pressure all night. A primary pump inflates the mattress and a secondary pump monitors and adds air to keep pressure to one of three comfort levels while the user sleeps.
For a few, though, even at the softest setting the bed might be a bit too firm.
Let's explore the underbelly…
The underside and seams of the Serta EZ Bed - Queen seem to be vulnerable. We discovered many descriptions of holes on the bottom near seams in the area where the bed connects to the bed frame, often around the legs. Reviewers report tears after a few uses, 10 days, two weeks, four weeks, or five months. The resulting leaks are not easy to repair.
Picture this
The Serta EZ Bed - Queen unfolds and inflates as well as deflates and folds up by itself. Users marvel watching the frame legs unfurl, extend, and flip to standing as the mattress fills with air under four minutes.
How?
Unzip the mattress case, plug in the primary pump motor, and turn the dial to "inflate." Deflation is just the reverse. Simply push the empty mattress back into its case, zip it, and store. Although heavy for many users, one 110-pound "arthritic senior citizen" actually finds it easy to wheel around.
To witness the self-inflation/unfolding and self-deflation/folding process, watch this video.
Features
Includes rolling storage case
Dual-pump system
Frame dimensions: 64" x 54" x 11.4"
Inflated dimensions: 78" x 60" x 22"
Top material: Flock 0.70mm
Side and bottom material: K80 PVC 0.50mm