Senlips has been around in the LED business for a long time now. The company has built its reputation on having introduced the best LED bars while offering new and unique features.
They have provided top-notch quality LEDs to its customers in the past this Senlips model is no different.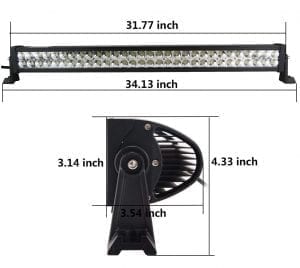 This 32-inch Senlips Off-road LED Light Bar provides great value for money and is extremely convenient to carry, making it one of the best LED light bars available in the market.
This light bar comes certified with an IP67 rating, which means it will protect your product from water and dust no matter how rough the terrain is. The die-cast aluminum housing gives the light bar a sleek, classy finish. The aluminum housing also works as a heat dissipater, which allows the LED light bar to perform in the toughest of circumstances.
Note: This Senlips model works best between -40 and 85 degrees Celsius.
Built to last, this LED light bar comes with an 180W power output and operates within a 10-30V voltage range. This powerful product offers 15000LMS that ensures the safety of your drive and provides you with exceptional visibility at night, during a storm, or even in thick fog!
That's not it…
The product is a combo offers a 60 degree Flood beam and a 30-degree spot beam. The 6000k color temperature ensures your convenience, safety, and comfort!
Along with the superior quality of the LED and the numerous features it comes with, Senlips has worked extensively in increasing the usage time of its LEDs and this powerhouse can last up to 30,000 hours.
Senlips users have praised the ease of installation of this unit, and the mounting brackets are hassle-free so the users have to put in very little effort to put it together. Customer reviews about this product have mostly been overwhelmingly positive and especially praise the extremely powerful light that the 40pcs of 3W LEDs emit.
Package Includes: 1x Senlips 32" 180W Led Light bar, mounting brackets, screws, nuts and 24-month warranty.
Features:
Apply to more vehicles with power 180W, 10-30V operating voltage of led work light bar.
15000LMS, Combo beam with 60 degrees Flood beam, 30-degree spot beam, 6000k color temperature bring you comfortable and safe driving experience.
IP 67 waterproof standard protects your light bar from leaking. Die-cast aluminum housing gives your light bar a polished look and wide working temperature (-40°C~85°C)
High quality and eco-friendly led guarantee you 30,000 hours using time.