A truly innovative faucet, Senlesen's design is special. The main plus of the Senlesen is in the visual department. Besides the large variety of finish options, you also get different aesthetic twists, like diamond-looking knobs for temperature control with the Brushed Nickel option.
Moreover, you have batteryless LED lights, for a subtle modern touch.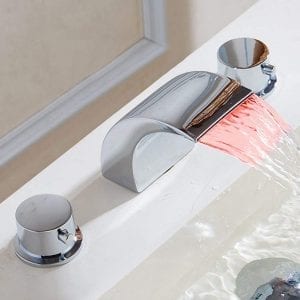 Visually, this product is truly stunning.
If you want to go to the next level in terms of visuals, you can also grab the assorted drain stopper, available here.
So what's the catch?
Well, the base materials are not the best out there. Our plumbers mentioned this product isn't necessarily a bad choice, but perhaps not the best out there. There are a few issues that make them say this, like the loud noise, awkward length of connector pipes, and poor materials for supply lines.
All that in mind, we weren't really disappointed by this product. If someone were to ask me about the Senlesen, I would say it's perfect for an awesome looking guest bathroom.
Features
Minimalist build
Two knobs for temperature control
3 holes for mount.