The Secura 9100MC is another affordable option if you're in the market for a new induction cooker. While it may not have a modern design or dozens of features, it can boil water with the best of them and fry up an egg in an instant.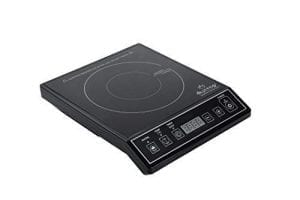 This cooker has a spacious top with two marked heating zones for smaller pots and larger 10-inch cookware. While bland, the design does make it easy to clean and the controls can take some abuse as well. There's a small display on the front that gives you the scoop on temperature and can also relay diagnostic messages if there's an error.
But what about the sensors?
As with all induction cookers, this unit will start when you place the proper pan on the cooktop. Overall, consumers were pleased with the auto-pan detection feature and had a high success rate. That said, it still comes down the type of cookware you use at the end of the day so be sure you have a stainless, cast iron or magnetic bottom pan on hand.
The Secura 9100MC has 15 power levels from 200 to 1800 watts with a temperature range of 240 to 360 degrees. You can set the timer for close to 3 hours in 1-minute increments, and when it comes to speed, it's just as quick as you'd expect. Chicken, eggs and other skillet-friendly foods will cook quicker than ever before and considerably faster than a gas or electric range.
This cooktop may not have a sleek cutting edge design, but it's arguably the easiest induction top to use. It also has plenty of power, and we're big fans of any tech with a built-in diagnostic system. It doesn't come with any extras although you will get a 1-year warranty and the standard user manual which is as easy to read as the product is to use.
Features
200 to 1800 watts
170-minute timer
1-year warranty