The School Smart Vertical Pencil Sharpener is a close second to the X-ACTO model. This one is slightly different because, instead of a horizontal, classic shape, this one loads the pencils in vertically for sharpening.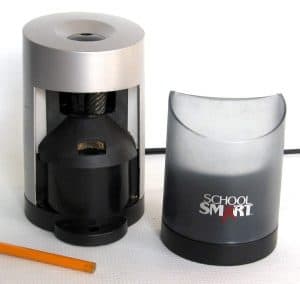 Like our previous model, this School Smart pencil sharpener has helical steel blades for maintaining sharpness through high volume use. It also has an auto stop feature for added safety. The blades will not continue to turn if there's a problem, jam, or other issue that requires maintenance.
But, take note!
This unit will not effectively sharpen colored pencils, so it's more limited than the previous unit.
The School Smart pencil sharpener is also a corded unit. It does need a power source to operate. Again, this saves added cost for batteries, but it limits where you can effectively place the unit for access.
Best feature of this pencil sharpener:
The extra-large shavings dispenser is great for keeping maintenance and cleaning time to a minimum.
It's also cheaper than the first model, with just as high customer reviews, making it a more economical version if you don't need it for colored pencils.