Made by the same women's footwear company, the RYKA Women's Tenacity Shoe has a narrower heel, roomier forefoot, higher instep, and more sturdy footbed. However, unlike the RYKA Women's Influence Cross Training Shoe, the RYKA Women's Tenacity Shoe is designed for low-impact workouts.
Here's why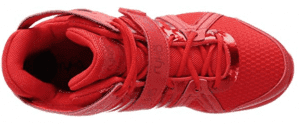 For Zumba participants of all ages, this high top training shoe offers ample ankle support. We discovered, nonetheless, that many reviewers also chose this model for comfort and security. At least one Zumba Gold instructor recommends this model to students. For those unfamiliar with Zumba lingo, Zumba Gold is a low-intensity Zumba class designed for active older adults who want to routines easier on their joints.
What's more
RYKA Women's Tenacity Shoe wearers also like the shoe's "cheerful" and "youthful" colors as well as its breathable mesh upper. Refreshingly, we discovered that most users report this shoe is true to size or needs to be ordered up at most a half a size.
A few caveats …
No shoe is perfect for everyone, and the RYKA Women's Tenacity Shoe is no exception. A few consumers comment that this model could provide more support for lateral movements, could slide better, and could have more cushioning for its "thin bottom." Otherwise, though, we found no other complaints.
To learn more about the RYKA Women's Tenacity Shoe, watch this informational video.
Features
Synthetic and mesh upper
Lace-up front
Velcro strap across midfoot for secure fit
Cushioned insole
Rubber sole
Pivot point under ball of foot