Also part of our review process was this Rugged Tools Pro Tool Backpack, featuring a total of 40 pockets and suited to virtually any type of job where you need an assortment of tools at the ready. This is one of the best tool backpacks we reviewed as it really is designed to be tough and rugged.
This tool backpack has an upright design and uses more modern styling in its appearance. It has a high-quality construction that incorporates 68D polyester material. While the Rugged Tools Pro Tool Backpack is not waterproof or fireproof, it does offer a molded bottom that protects against moisture and dirt which can damage your tools.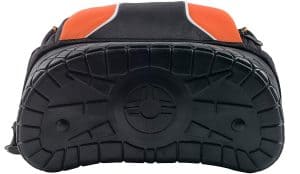 We were a little disappointed that this tool backpack didn't include a laptop compartment which can be a drawback, but the overall design of this tool backpack is strong. It has reinforced pockets to allow you to access the same tools over and over without damage to the bag and reinforced zippers to help this bag last.
This tool backpack also comes with a 100 percent satisfaction guarantee.
This means…
You will be completely satisfied with the design and quality of this tool backpack or your money back from the manufacturer. This makes it an easy investment to make for the storage of your tools.
If you are looking for a tool backpack that will stand the test of time, the Rugged Tools Pro Tool Backpack comes highly recommended. It does, however, have a heavier weight, but it will withstand any abuse that you put it under. We suggest this great tool backpack for anyone that needs durability.
Features
68D polyester material
Reinforced pockets
Reinforced zippers
40 pockets
Molded hard bottom
100 percent satisfaction guarantee