If you want a reliable and quality-made ice chest, then the RTIC Cooler 65 is the best choice for you.
What makes it so good?
First of all, it's rotomolded and has extremely good insulation. Some of the users we contacted told us the chill factor holds up even after full seven days. Moreover, there are users who said it kept ice for as long as ten days…
But on the manufacturer's website, the RTIC Cooler 65 has a minimum ice retention period of five days (that's what they guarantee, but it always goes beyond five days).
This is a significant advantage over other ice chests, especially if you're planning to camp in the backcountry where you can't replenish your supply of ice.
Maximum insulation is achieved via thick, 3-inch walls with a foam layer.
Furthermore…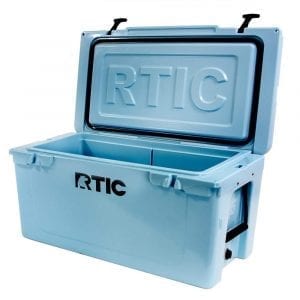 The RTIC Cooler 65 is very easy to use, because it has sturdy handles that offer you solid gripping (each handle rope is covered with a plastic tube).
A few users have complained about the handles being slightly uncomfortable and slippery, but this is probably due to the weight of the ice chest.
The heavier it is, the harder it is to carry. There are also side handles, for ease of use.
The latches are simple and work perfectly, and the hinges allow you to open and close the ice chest with ease.
The best thing of all…
You don't have to worry about sealing.
The RTIC Cooler 65 has a freezer-style lid gasket and it seals perfectly. It's quite stable with  its non-slip base.
The draining is particularly good, due to its V-Drain System. The drain spouts are great, because they can take the water out while the ice chest is in full use.
And the no-sweat exterior is something all users simply adore.
There are some minor issues, though.
The rubber latches on this ice chest are well-made and definitely easy to use, but they are a bit thin. Also, the rubber balls buckling up the lid are relatively small, compared to other ice chest of similar build.
This shouldn't be a problem, because the latches are definitely reliable, but it could become an issue after several years of extreme wear and tear.
Then…
There is no leash on the drain plug.
It's not the major of problems, but many users have pointed out a leash on the drain plug is a great addition.
So, if you want your drain plug with a leash, you won't find it on this ice chest.
And finally…there's the weight.
With its 36 pounds, this is not the most lightweight ice chest around. It definitely cannot (and shouldn't!) be carried by one person.
The manufacturer offers a 1-year warranty service period. More information here.
Features
31.7 x 20.3 x 17.9 inches; 39.9 pounds
3-inch insulated walls
rotomolded
reliable rope handles
side handles
V-drain system
freezer-style lid gasket
no-fail hinges
non-slip base