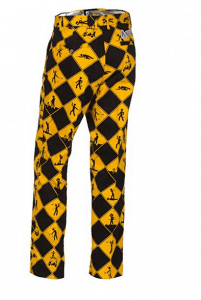 Let's go back to the hippie era, shall we? Royal & Awesome will take you to some different time with their uniquely designed golf pants. But first, let's see how functional and comfortable we've found them.
These pants are made from cotton and just a bit of spandex. While cotton makes sure they're breathable, spandex gives them elasticity. Instead of a waistband, they have a zipper and can be machine-washed. They also come with a pitch mark repairer you can use as a bottle opener, too.
But wait:
We have to get into the design some more, especially since it's exclusive to the Royal & Awesome brand. These pants come in so many different colors and patterns, there's something for every taste. Fore Seasons, Well Plaid, and Hawaii Five Oh! are just some of the designs with which you can make sure you're remembered, no matter how well you play golf.
The only big downside we've managed to find is the fact that these pants aren't as flexible as some of the other on our list. They're a bit baggy and longer in legs, so watch out for that as well.
Features
Made from cotton and spandex
Exclusive design
Zipper fastening
Come with a pitch mark repairer