Is your hamster a tiny wannabe mountain climber?
Then he'll love this cage.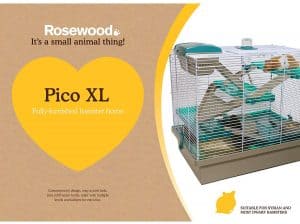 Six (six!) levels mean lots of climbing fun, so your ham will never get bored. We found the hard plastic platforms to be sturdy and easy to wipe clean.
And it's definitely made to be accessible to your average hamster, so no worries about too-steep ramps.
The Rosewood Pico XL also has a built-in water bottle, food dish, hideout, and wheel, so you don't need to worry about any of the furnishings before you bring your hamster home.
And we gotta say, we love the rainbow of colors. It's not every day you can get a hamster cage in hot pink.
Now for the bad news.
This is another cage that's just not really ideal for a Syrian hamster because of the size. We do think it would make an awesome home for a dwarf hamster (or even a pair of them!).
And we don't recommend this cage for older hamsters.
All of those levels are pretty cool for a younger hamster, but your fluffy senior citizen might have trouble climbing up the ramps. Frankly, we'd be worried about an older hamster falling and hurting himself.
Honestly, if you have any doubt whatsoever that your hamster can't handle the ramps, this is not the cage for you.
Either way, we recommend watching your hamster carefully to be sure he's climbing up and down with ease, and adjust the ramps if you need to. Just to be extra safe.
Features:
Six levels of climbing
Built-in accessories
Detachable base
Dimensions: 14.2 x 19.7 x 17.7 inches
Weight: 7.05 pounds