When you're not quite ready to go all-in on an induction cooker, sometimes a budget-friendly option is your best bet. Well, a sweet price point is only one reason consumers love the Rosewill 1800 watt induction cooker, and it's brainy big brother.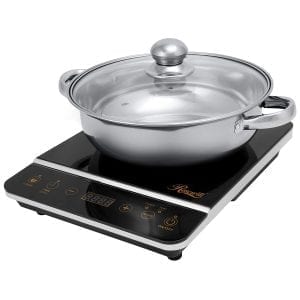 The first thing we want to point out about this cooktop is the fact you can buy it in two styles. The base model is what we're going to focus on, but there is a pre-programmed version of this one as well with a slightly different design. While both have the same temperature range and a similar set of features, the latter comes with five modes for soup, arm milk, fry, hot pot, and stir-fry.
Settings aside, both models of the Rosewill induction cooker perform as advertised. Temperatures range from 150 to 450 degrees with eight settings to choose from. There are eight matching power levels as well ranging from 300 to 1800 watts, so you'll have plenty of power regardless of what's in the skillet.
On that note…
The RHAI-16001 comes with a 3.5-quart stainless steel pot measuring 10-inches. It's not in the upper echelon of the pot world, but will get the job done, is magnetic and a nice extra out of the box. Consumers also felt this was one of the easier models to adjust to with only a handful of buttons for Mode, Power, Timer and adjustment controls for up and down.
There's also a child lock button to go along with an LED display while the pre-programmed variant adds the aforementioned cooking modes and a temperature scale. Unfortunately, we did not see the child lock feature mentioned for the RHAI-16002 variant. That's a big disappointment, and another reason we chose the base model.
Other features of note for the Rosewill 1800 watt induction cooker include a 3-hour timer, cookware compatibility detection and a weight limit of 17.6 pounds. It can handle pots or pans from 4.7 to 10.2-inches as well which is impressive considering its 11.2-inches wide and only 13.58-inches long. Both models come with a 1-year warranty, user guide, the 3.5-quart pot, and a test magnet to test your current cookware.
Features
Polished crystal plate cooktop
300 to 1800 watts
8 temperature settings
Overheating protection
1-year warranty