The Rockwell RK9002 offers a versatile and hands-free workstation which effectively clamps sheets of wood and provides a solid support to the project at hand. This product is said to be especially ideal for working with 8x4 plywood sheets.
Let's get into the details: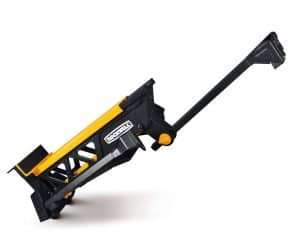 The unit claims to be able to clamp up sheets with up to 1 ton of force, which we feel is pretty accurate. However, our research found that when a large sheet of plywood is set up on the unit, the ends of the sheet remain moving which can cause a bit of a hassle for the user.
The product comes with front scooter wheels that make it easy to carry around even on rough ground. This little feature has the potential to be very useful. Moreover, it is also fairly easy to store this product since it is foldable, making it handy for people who don't have large storage spaces.
This Rockwell product also comes with a five-year limited warranty in case you face any trouble.
Note: Don't forget to check out this work support stand from Rockwell.
The problem with this sawhorse is…
The RK9002 can only support weight of up to 600 lbs., which is much lower than the industry average. There are cheaper options available on the market that can support up to 1000 pounds, and we feel this is something Rockwell can work on to improve in order to stay ahead of the game.
We also found a few people complaining about Rockwell's quality control and how poorly they deal with this product.
Customers have been shipped this workstation in a poor state with jaws fused closed, nuts and bolts loosened inside the box and with some alignment issues.
Overall, we feel that Rockwell has a lot of potential to do well with its sawhorse but their poor quality control and customer service overshadow the product's great features.
Features:
Hands-free and versatile workstation
Clamping force of up to 1 ton
Supports weight of up to 600 lbs.
Effective and quick folding feature
Scooter wheels for ease of carrying
Product dimensions: 39 in. x 39 in. x 34 in. standing; 29 inches by 14 inches by 13 inches folded