Rockport has long been at the front of the industry when it comes to comfortable shoes. Operating for almost half a century, they've made some of the most famous comfortable shoes out there. And the Rockport Men's World Tour Classic can definitely be considered iconic.
These leather shoes are extremely lightweight, which means your foot and knees won't get tired while wearing them for longer periods of time. The padded tongue and collar on these shoes add to the comfort, while the traditional lace-up closure ensures a perfect fit.
But here's the kicker: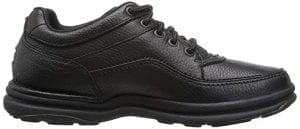 The knit lining inside the Rockport Men's World Tour Classic wicks the moisture away and keeps your feet dry. On top of that, the leather upper is highly breathable, which also helps with overall foot health, including avoiding athlete's foot.
The EVA midsole and rubber outsole on the Rockport Men's World Tour Classic shoes provide good traction, and the trademarked Walking Platform provides stability, flexibility, and comfort.
If you have wide feet, these shoes are a great choice. The wide toe box inside the shoes makes sure there's ample space for people with wider feet. The fact that there are removable insoles in the shoes makes the World Tour Classic shoes very adjustable.
To make it even better:
If the default insole in the Rockport Men's World Tour Classic doesn't really fit your needs, you can always get an insole for flat feet like the Orthotic Insoles for Flat Feet, or shock-absorbent insoles like Onemix Shock Absorption Insoles. Then you can simply replace the existing insole with one that's perfectly suited to your particular needs.
However,
Our research showed that the insoles in these shoes provide great cushioning and decent arch support, and most users that don't have particular foot issues are perfectly happy with the insoles that come with the Rockport Men's World Tour Classic.
A common complaint that we've heard when doing our research is the tongue on these shoes is simply too short. When the laces are put through all the holes, the top line goes over the tongue, so the laces end up rubbing against the foot.
Features:
Leather
Lace-up closure
Synthetic sole
Lightweight
Padded tongue
Padded collar
Leather uppers
Knit lining
EVA midsole
Patented Walking Platform
Reinforced arch
Wide toe box
Removable insole
Strobel construction