If your primary concern is getting the most stuff for the least money, this RockJam SuperKit is the hands-down winner.
Not only do you get the keyboard itself, you'll also get the power source, a keyboard stand, a playing stool, a pair of headphones, and two months of lessons.
But there's a reason this is so much cheaper than the others.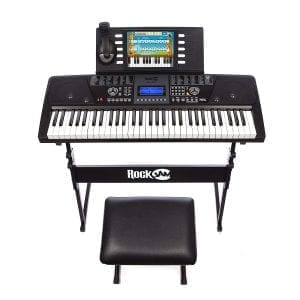 The key action isn't weighted or touch-responsive, and the sound lacks the resonance and depth that makes higher-end digital pianos sound so much like the real thing.
What's more…
It has more voices than many of the pricier pianos above—about 100 all told—but the sound quality across them is equally mediocre.
We can say this though...
While it's not performance quality, the RJ-561 is a functional keyboard.
And for what it is, it's well designed.
It comes with loads of songs you can play along with on the included Piano Maestro app. The on-piano interface is clearly laid-out, in a way that even a child can understand, with an easy to read LCD display for lessons and settings information.
If you're serious about playing the piano, you'll probably want to get one that feels and sounds more like the real thing.
But if you just want something to play around on (or a tester instrument to gauge interest before you invest too much money) you'll have a lot of fun with this RockJam keyboard.
Features:
Keys: 61
Voices: 100
Power: 6 1.5v D batteries, power source (included)
Weight: 20 pounds
Inputs: Microphone
Outputs: Headphone
Piano Maestro app and free included lessons