This powerful, heavy-duty tankless water heater from Rinnai is one of their most efficient models.
This unit operates on both natural gas and propane and is designed to be installed indoors. It offers a massive flow-rate of up to 9.8 GPM, which means endless water supply to a large residential or even a commercial place. You will never have to worry about running multiple water applications on this tankless model.
Note: This unit can activate at just 0.4 GPM too.
We think the Rinnai RUC98iN is more than just the average water heater since it offers tons of benefits. It is energy efficient, saves space, and has a low environmental footprint.
Let's take a closer look…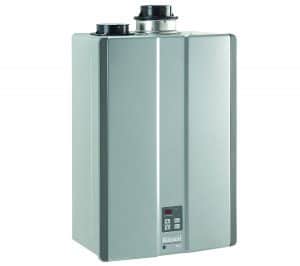 Aside from offering such a high flow-rate, this model also comes with special venting options. The concentric/twin pipe PVC venting made it easy to assemble and set up, although we do recommend getting a professional to do it for you.
That being said, Rinnai does also accept your DIY installation, on the condition that you get it inspected by a certified plumber.
But since it weighs a hefty 82 pounds, this water heater can be a little difficult to install on your own. The good thing is, it has a space-saving design and can be easily mounted on a wall with some help. This means its heavyweight won't make much of a difference after you've installed it.
The Rinnai RUC98IN was also one of the quietest tankless water heaters we tried out. This is because it uses advanced low-NOx technology, which effectively reduces fumes and emissions. The low-NOx feature is also great for the environment and cuts down on both air and noise pollution.
Also, this model has an energy factor of 0.96, and it helps that it comes with an Energy Star certificate. It's highly energy efficient and you'll save tons on your utility bills. Plus, since it works on natural gas, you will automatically cut down on costs. That's because gas-powered heaters are much more efficient than electric ones.
It offers a hot water temperature range of 98F-140F for residential installations. There is a commercial installation option that can be purchased separately which will boost temperature outputs to 185F. It also comes with an MC-91-2US remote controller, which lets you easily set the water temperature from a distance.
Moreover, this Rinnai water heater is incredibly durable and is known to last for a very long time. It also comes with two different types of warranties:
Residential: Limited to 12 years on heat exchanger, 5 years on parts, and 1 year on labor (5-year optional on labor).
Commercial: Limited to 5 years on heat exchanger, 5 years on parts, and 1 year on labor (2-year optional on labor).
The only downside that we see in this powerhouse of a water heater is its price. It costs a lot, we won't lie. But then again, you get an amazing water heater with guaranteed longevity, energy efficiency, and high-end technology to save you a lot of costs and frustration in the long run.
The bottom line is, if you are looking for a great, long-term option for your large-sized residential or commercial place, we definitely recommend you to consider investing in this Rinnai model.
Features:
Energy Factor: 0.95 for Gas and Propane
Temperature Range: Residential: 98°F–140°F/Commercial: 98°F–185°
Ultra Low NOx
Venting Options: PVC/Concentric PP
MC-91-2US controller included