This innovative water heater from Rinnai uses advanced technology to bring you steaming, hot water.
This unit is able to instantly heat water because of the heating elements installed within its piping system. Let's break down its features and get a better look at why this heater makes it to our top ten list:
Let's dive into the details…
First of all, we found this water heater to be a powerful, whole house unit. Our testing proved it to have a massive capacity. In fact, it can put out up to 7.5 GPM of hot water at a time. This makes it perfect for large-sized residential, or even commercial, applications.
Simply put, it's enough to run 3 to 4 full-flow showers simultaneously. That's a tough standard for other tankless water heaters to top.
On top of that, this Rinnai model is not lacking in the energy efficiency department either. With an energy factor of 0.82, this device showed us it can save its owners a reasonable amount on their utility bills. It even comes with an Energy Star certificate for your assurance!
Environmentally Friendly: This unit is also SCAQMD-certified for reduced fumes and emissions of carbon dioxide.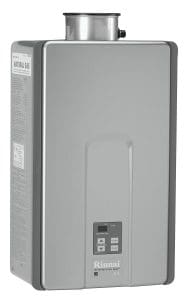 You know what else we thought made this tankless water heat great? The amazing technology and advanced controls!
The Rinnai RL75iN comes with a digital controller that shows the user if there are any issues the unit is facing. It makes troubleshooting a breeze and indicates error codes (you can check the manual for what they stand for, their importance, and how to solve them). We loved the simplicity of this feature.
You can also control the water temperature and set it as hot as you like. For residential applications, you can choose from between the range of 98 to 140F. For commercial applications, the temperature can range from 98 to 160F.
Moreover, it also comes with a leak detector, which stops the water supply if a water leak is identified. Another cool feature is the temperature lock. This locks the temperature setting to prevent any unauthorized adjustments and changes.
Since scale deposits can shorten the life of a water heater, and lead to damage or breakage, we were especially impressed with the scale deposit detector this unit is equipped with.
And that's not all that impressed us. The Rinnai RL75iN's space-saving and convenient design had us swooning. It's not very large sized, and its sleek, silver design won't look like an eyesore in any part of your house.
This unit comes with a 10-year warranty for the heat exchanges, a 5-year warranty on the parts, and a 1-year warranty for residential installation. Keep in mind the warranty is only valid if you get the unit installed by an authorized Rinnai service provider.
The only negative part about this excellent water heater is its price. But if you look at the long-term benefits, it can really be worth it. Especially if you want to invest in a whole house water heating system for a large residential or commercial place.
Plus, with all the advanced features and controls, this unit can run perfectly for 20 years if maintained properly. Maintenance isn't much of an issue either because this intelligent device always informs you whenever there is a problem!
Features:
Comes with a digital controller and Error Code Indicator
Residential temperature range: 98°F – 140°F
Commercial temperature range: 98°F – 160°F
Energy Star Certified
Leak and Scale Deposit Detector