This model from Rigidhorse is unique and supremely powerful. It is packed with four rows of the newest 8D lights that provide incredibly bright, 6500K white light in a spot/flood combination. This LED light bar has a total of 8 floodlights that greatly enhance the exposure of the surrounding area.
This extremely powerful 52 inch 924W Light Bar is IP68 certified, which means that the product is not only waterproof and quakeproof but also rustproof, scratchproof and has a high heat resistance. This light bar will not give way even in the toughest of situations.
It gets better: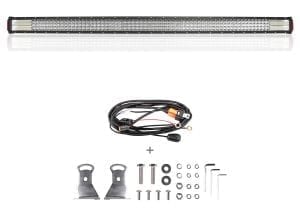 The irradiation of the Rigidhorse doesn't weaken with time either. The LED lights on this model can last for up to a whopping 50,000 hours, and its sturdy aviation aluminum housing further helps extend the product's lifespan. Along with offering the surety of top-notch performance, this bar will also last for years and years to come.
This product is compatible with almost all types of automobiles with a 10-30V DC power source. Whether it is your truck, pickup, SUV, UTV, ATV, Jeep, Boat or a forklift – don't worry about it! This product will work like a charm.
A word of caution…
The customer reviews of this product haven't been consistent. Some customers worry about the safety of the product, and others complain about the uniformity of brightness along the entirety of the bar. On the other hand, a lot of customers have raved about the ease of installation of the product and consider it insanely bright and great for use in various situations.
Rigidhorse is also relatively new to the industry, but in a very short period of time, it has introduced some groundbreaking products that have really shaken the LED market.
What's inside the package: This Rigidhorse product includes a 924W LED light bar, mounting brackets, a wiring harness, screws, and a 1-year manufacturer warranty. The company also offers 24-hour online support to its customers (usually responding to queries within a few hours).
Package Includes: Led light bar, mounting brackets, wiring harness, screw pack, 1-year warranty.
Features:
Quad Row Light Bar Design: The unique 4 rows of high density LED chips and 8D lens make sure the light will be much bright than other 3 row/2 row/ 1 row Led light bar in the same length.
Flood Spot Combo: The perfect combination of spotlight 150 and flood light 30 can prolong irradiation distance and broaden the view area, which can completely turn the night into day!
Function introduction: Rigidhorse LED light Bar with IP68 waterproof rate means not only waterproof but also shake-proof, rust-proof, heat-resistant, crash-proof, and scratch resistant. You can use our Led light bar in any severe environment.
Lasting Brightness & Long Life Span: New lights are bright upon arrival and early use, but the high-quality light has lasting lighting performance through years of using. Our Led light bar will always bright, and you have no worry of brightness deterioration or weakening. Using very special and sturdy aviation aluminum heat sinks to extends the lifespan of the light bar over to 50,000 hours.
Wide Applicability: Compatible with all automobiles and devices equipped with a 10 to 30 Volt DC power source. It is the perfect companion for different types of trucks, Jeep, SUV, ATV, Hummer/Pathfinder/UTE/4WD/Yamaha Viking/Dodge Ram, etc. Off-road vehicles, 4x4, Military, Mining, Boating, Farming, and Heavy Equipment etc.