The Revco Industries Revco GB100 BSX Extreme Gear Pack is ideal for welders that need that extra space to carry a helmet without added bulk. We were able to identify that this tool backpack provides the perfect carrying case as it is lightweight, so you are comfortable when carrying all your tools.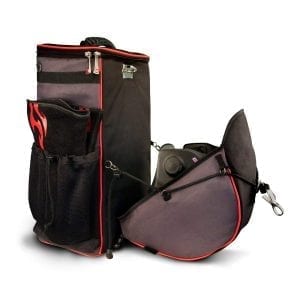 The construction provides for added wear and tear as it uses reinforced side pockets which always seem to rip after extended use. There are bottom grippers that help keep your backpack clean and damage-free.
Wait there's more…
The Revco Industries Revco GB100 BSX Extreme Gear Pack does have a boxy styling to it that may not be for everyone we found. If you are looking for a bag that is more modern in its appearance, we recommend that you may do better with another option.
Nonetheless…
This tool backpack does provide plenty of storage capacity for your tools and so much more. Thanks to the padded back, it is also comfortable to carry and offers convenience in getting all your tools from job-to-job.
We suggest this great tool backpack for workers that do need to carry a helmet as it really is the most versatile option for this accessory. There is no separate compartment for a laptop though, so it may not be ideal for technicians or support help that need to travel with a digital device.
Features
Reinforced side pockets
Padded back
Helmet catch with quick attach
Ideal for a welder
Plastic bottom gripers