The Remington Beardsman Boss is a cordless clipper that comes with all the features needed for a professional and clean beard cut. We found it to be fast, light, and not too noisy on the job with a battery that lasted several hours.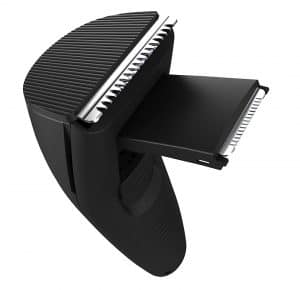 The motor inside this clipper is a bit bigger than standard NiMH rechargeable systems which mean more power and torque.
After picking the correct length setting, it's just a matter of running the machine through the hair multiple times. The popup trimmer also works great for trimming a mustache and other areas where it's harder to reach. This clipper arrives with 3 combs, a built-in length setting with 18 options, and a long charging cord.
The indicator light shows green when charging and it goes out when it's done.
Features
Rechargeable battery with 120 minutes of cordless cutting after four hours of charging
A zoom-wheel mechanism for quickly adjusting the position of the trimming combs
Detail trimmer for cutting facial hair
Quick-release blade system
Two-year warranty
The lithium battery in the Remington Beardsman runs precision-cut blades and a detailed trimmer which we found to be really useful for shaving beards and other small patches of hair to a precise length. The three combs are enough to keep both a rugged beard or shorter cuts in check and the blades are easy to attach or remove with grooves that lock and snap when fitted properly.
Here's what we recommend:
When using the Remington, start with the longest setting and work your way to the perfect length.