If you find yourself on your feet all day, these Reebok walking shoes are a great way to take some pressure off your feet. They can provide the support and comfort you need. Reebok is a reputable shoe manufacturer with a whole array of comfortable shoes for walking all day, and the Work N Cushion 3.0 are a perfect example of support paired up with style.
Well-designed and casual-looking, these shoes are great for a variety of purposes – jogging, working, strolling, or even going out on the town. And if you need to be on your feet all day, these shoes will turn the experience from a grueling one to a surprisingly pleasant with all their amazing features.
Let's check them out: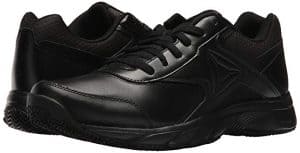 With their durable leather design and low weight, these shoes will definitely take some of the pressure off your feet and make them feel less tired after a long day. Featuring flex grooves and oil- and slip-resistant outsoles, the Work N Cushion 3.0 are made to help you easily navigate man-made terrain. They are great for all kinds of work environments, whether it be dry or wet, indoors or outdoors.
The Work N Cushion 3.0 also feature a mesh lining which lets your feet breathe, and is great for avoiding athlete's foot and odors after a long day at work. The Memory Tech LT sockliner and EVA midsole provide comfort and security to your feet all day long. These shoes also have a low-cut design which gives you awesome freedom of motion and allows for quick transitions.
But that's not all:
The beveled heel construction on these shoes also provides enhanced walking stride. All in all, our research has shown a vast majority of people who own these shoes are pleased with how they support their feet and how they hold up through time. However, there are a few downsides that we have found.
Unlike some other models, the insoles on these shoes are not made from memory foam. Also, some users report the leather is a bit stiff when the shoes are new, and sometimes white seams begin showing on the shoes after wearing them for a period of time. This doesn't affect the integrity of the shoe, but does affect the aesthetics.
Features:
Synthetic leather
Weight: 343 g
Low-cut design
Mesh lining
EVA midsole
Memory Tech LT sockliner
Bevelled heels
Forefoot flex grooves
High abrasion rubber outsole
Non-slip oil-resistant outsole