You might remember this sick ride from your own childhood. When they came out in 2000 everybody had one.
And they have remained popular since while only getting better.
This is an awesome version of the toy you probably loved as a kid.
With a little twist...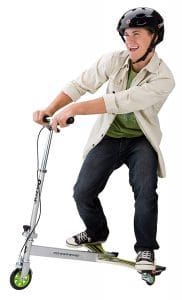 Rather than pushing with their feet, rotational force created by the back to wheels pushes this scooter forward
Riders stand with their feet on the back two wheels. The handlebars connect with the front wheel. And when they push the back two wheels side to side, it creates energy which is transferred into forward motion.
Other features include a hand brake, adjustable handlebar, and folding mechanism. We thought that the hand brake was a great feature absent on many razor scooters. You're little friend won't be fumbling for the foot break with this scooter.
We found the folding mechanism worked very simply. So this is a great feature for transportation and, importantly, storage.
Additionally, the bigger front wheel on this model makes it a smoother ride than other scooters we have tried. This is an awesome feature as scooter can be notoriously easy to crash on seemingly small cracks.
If you had one of these as a kid, you probably remember the endless hours of fun they were to ride around the neighborhood. There's a big skill factors since they could even learn scooter tricks. And they can even be used to get around so they are a great alternative to walking as they start to get older and more independent.
Keep this in mind:
This is a deluxe scooter, so shorter children might have a hard time using it. it's actually made for a taller rider.
This product is under warranty for six months. So they'll want to get some use out of it before then in case there are any defects to find.
Features
Three-wheeled design
No foot-pushing
Deluxe size