With a maximum rider weight capacity of 120 pounds, the Razor Power Core E90 Electric Scooter is good for children.
In fact, most feedback was from parents on the experiences of their kids who typically ranged in age from five to ten years.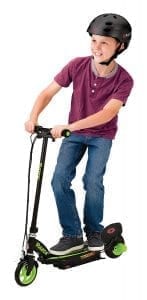 Although, several adults, including our testers, tried the scooter and loved it! One 225-pound grown-up found it quite "zippy."
Its "zippiness" is great for some riders, but too fast for other.
Especially younger kids.
Some parents wish the Razor Power Core E90 Electric Scooter could have more than one speed.
Nonetheless, it's easy and fun to ride.
It is a bit short with low and non-adjustable handlebars.
Users don't recommend this scooter for people over 5' tall. Two 11-year olds found this model too short for them.
What about the battery?
The battery earned conflicting reviews. Charging it overnight yields at least an hour or more of continuous use.
To some people, the battery lasts longer than expected–even more than energetic eight-year-olds! On the other hand, a few report the battery holds a charge less and less well after a few rides or just a few weeks.
Made of hard rubber, the Razor Power Core E90 Electric Scooter's wheels seem best suited for smooth surfaces like concrete, not asphalt.
One parent notes that riding on a rough surface will "shake the fillings out of your teeth!"
Want to hear something frustrating?
We found numerous reports of the back wheel seizing up.
Since the hub motor is in the back wheel, if either the wheel or the motor breaks, both must be replaced.
Many people also complain about problems occurring shortly after the 90-day warranty period… too late for returns or replacements.
Watch this assembly, demonstration, and review of the Razor Power Core E90 Electric Scooter.
Features
Weight: 22 pounds
Dimensions: 32.5" x 16" x 36"
Maximum rider weight: 120 pounds
Minimum rider age (recommended): 8 years old
Motor: 90-watt kick-start, high-torque, hub
Battery: 12-volt, lead acid
Ride time: up to 70 minutes
Maximum speed: 10 mph
90-day warranty