The Razor EcoSmart Metro Electric Scooter is perfect for commuters and adults of all ages (including older teens and senior citizens). Its sturdy, heavy-duty, and easy-to-assemble frame offers stability while its padded adjustable-height seat and solid bamboo deck provide comfort for a smooth ride.
Now does it feel?
With no suspension, this model can have a bumpy ride on rough surfaces. Several people didn't find the seat comfortable. They actually switched to another one.
Nevertheless...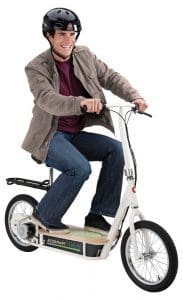 The Razor EcoSmart Metro Electric Scooter is excellent for running errands, carrying groceries (in a detachable rear rack), and commuting.
One person says the scooter is a great automobile "replacement" for short trips close to home. Another rider commutes 12 miles through a city on a single charge.
A third user finds the scooter's range for rolling, hilly terrain to be about seven to eight miles.
After each ride, the battery is easy to charge.
Although, we read reports of the battery indicator not being very helpful, as it doesn't always show when the battery is low or displays no percentage, just a green light that turns to yellow light when the battery is low.
Several users grumble the battery holds a charge less effectively within several weeks, but after the 90-day warranty. Speaking of warranty, customer service received multiple negative ratings.
And...
The Razor EcoSmart Metro Electric Scooter's rear disc brake is okay for level ground but "not good for hills."
With much use, the brake can overheat and becomes less effective.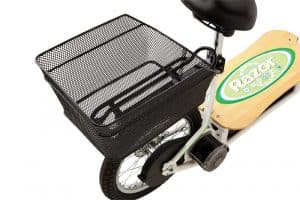 Many owners wish this model had a front brake as well for stronger and quicker stopping. Likewise, the motor located on the right side can get hot after a few miles, so be careful not to touch it then.
The top speed of 18 mph is fast enough for many riders. Controlling speed and acceleration via the throttle can be a bit tricky for some.
There have also been a few reports of a mystery "clicking" noise during rides. Our experts warn this may be related to the throttle or brakes.
Note:
One reviewer noticed many users accidentally snap off the charge port cover. They noted the charge port cover is NOT a plug, but rotates or twists clockwise out of the way of the charging outlet.
To see the unboxing, assembly, and helpful review of the Razor EcoSmart Metro Electric Scooter, watch this video.
Features
Maximum rider weight: 220 pounds (100 kilograms)
Minimum rider age (recommended): 16 years old
Motor: 500-watt variable speed, high torque, chain-driven
Battery: 36-volt (three 12-volt), lead
Ride time: up to 40 minutes continuously
Maximum speed: 18 mph (29 kph)
Brake: Hand-operated, rear disc
Tires: 16", pneumatic
90-day warranty