Very much the home run of gloves from the Rawlings range, the Heart of the Hide provides a high quality, classic glove feel for more seasoned players. With a high range of glove types for all positions, sizes, and colors, there is a glove for everyone.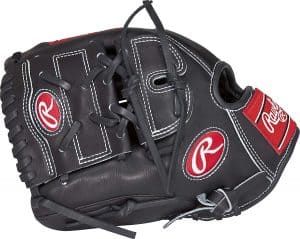 We really liked the strong support and padding, giving us greater protection in testing when catching with the catchers' mitt or as an outfielder. They are a full-grain leather glove, meaning a longer break-in period, however, they were a great snug fit once completed.
In testing, we found the inside lining of the glove is lined with deer-tanned cowhide, which made the glove feel very comfortable to wear even during the break-in period. It also features a very strong leather pocket, meaning greater catching ability.
One of the highest rated gloves by professional MLB players, the Heart of the Hide series is not for the faint-hearted, but once broken in will make you feel like a pro.
Specification Sheet
Largest range of glove types and sizes
Full grain leather
Strong support
Snug fit once broken in
Deer-tanned cowhide interior lining