Probably one of the most attractive looking sanders we had the pleasure of reviewing, the Random Orbit Sander is another great option for those looking for great performance in their home workshop or for DIY projects.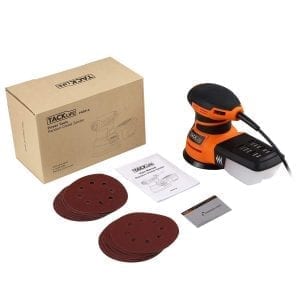 This sander features a range of high-tech features you'd expect in a top of the line industrial sander, but for the comfort of your home toolkit. While not a belt sander, this disc/orbital sander definitely achieves most of the goals you'd look for in your home sander.
The kit comes with 12 discs of sandpaper, with two different grits for a different application. In testing, we very much enjoyed the rubberized palm and grip design, which improved control and comfort when using the sander.
The sander also comes with an inbuilt dust collector, ergonomically designed which we felt helped with getting the sander into tight and enclosed spaces.
We also liked the sander's variable six-speed control, giving us control over the speed and helped us with the different tasks we were undertaking with the sander.
The sander was light, making it easy to take around the house and complete your little DIY tasks and home improvement projects!
Specifications Sheet
3-amp motor
3.4 pounds
10.1 x 6.6 x 4.9 inches
Six-speed variable control
Rubber ergonomic grip
Dust collection Box