Based on comments from beginners, mid-level players, and experienced competitors, the Rally NX Graphite Pickleball Paddle is good for all abilities. It's comfortable, lightweight, and offers great control.
The paddle's hard, textured surface allows developing players to improve their side, top, and bottom spins.
No pain is good!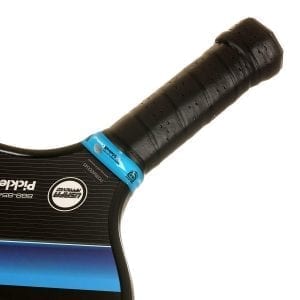 The fact that the Rally NX Graphite Pickleball Paddle seems lightweight to players is important. One player says that she enjoys the paddle's touch and power without straining her arm and shoulder.
A 69-year-old pickler reports he can play for two hours straight without any wrist or arm pain.
Another reviewer admits that it took a few sets to adjust to this paddle's lightness but as soon as she adapted, her game took a "quantum leap."
More praises
The Rally NX Graphite Pickleball Paddle's handle is covered with Winn Dry Tac grip tape, which is comfortable.
Even when sweating, players find their grip doesn't slip.
The best compliment we think is from one reviewer who says the paddle feels like an extension of his arm.
The Rally NX Graphite Pickleball Paddle provides a good feel and touch for soft shots like dinks as well as for hard hits.
Mixed opinions
The one feature where people express conflicting views is the paddle's edge guard. Protecting the sides of the paddle face, the edge guard is supposedly about half as wide as those on others paddles, leading to fewer erratic ball deflections when hit.
Some players like this but a couple others still dislike the presence of the edge guard.
Maybe these users should look at models without edge guards, like the Amazin' Aces BAINBRIDGE Pickleball Paddle (Pro Series) and the Wolfe XF Edgeless Graphite Pickleball Paddle, which we'll review later.
The bad and the good
We did find feedback from consumers of the Rally NX Graphite Pickleball Paddle not lasting or holding up within a month or the first few months.
Several players who swear they aren't hard hitters experienced paddles breaking where the face and handle meet.
Luckily, most encountered responsive customer service and quickly received replacements for defective merchandise under warranty.
The manufacturer has a 60-day return policy as well as a one-year warranty. Also, the purchase options are flexible; you can purchase just one paddle if you'd like.
Features
Include two paddles, two neoprene paddle covers, and four outdoor balls
Average weight of paddle: 7.7 ounces
Weight range: 7.4 to 8.1 ounces
Grip circumference: 4 1/8"
Grip length: 5"
Grip tack: medium
Grip style: flat cushion
Grip manufacturer: Winn Dry Tac
Paddle length: 15 ¾"
Paddle width: 8 1/8"
Paddle face: vinyl decal over graphite
Paddle core: Nomex honeycomb
Made in the USA