The Rally Graphite Power 2.0 Pickleball Paddle has an extra-large graphite paddle face and thicker polymer core. Its large sweet spot generates significant power and is excellent for hitting long shots as well as dinking from the kitchen.
This sturdy and balanced paddle is lightweight. As with other paddles, we found some people who think the paddle is a little too light and others who think it is a touch too heavy.
It has an edge guard with corner-shield protection, meaning slightly thicker rims at the paddle's upper corners.
Up your game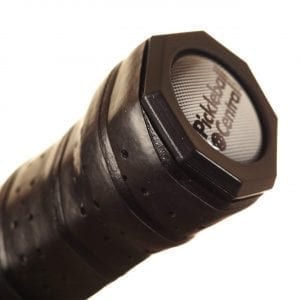 Several people believe the Rally Graphite Power 2.0 Pickleball Paddle helped them improve their game.
Well-suited to beginners and experienced (mid-level) players, this paddle also provides good spin for intermediate picklers demanding more out of a paddle design.
We encountered positive reviews from many former tennis players who really like this paddle.
Speaking of other sports…
The comfortable, easy-to-hold grip of the Rally Graphite Power 2.0 Pickleball Paddle is adapted from high-end golf designs for traction, cushioning, and moisture wicking.
One player states that this model is great for arthritic hands; another customer who plays four-to-five times each week believes that this paddle provides "minimal stress" on the body.
We came across three reviewers who didn't like the "hollow" sound of the ball hitting the paddle. Several others like the "pop" of this paddle, so we guess this problem doesn't really affect performance.
Speaking of performance…
A few people mentioned their new Rally Graphite Power 2.0 Pickleball Paddles arriving with minor cosmetic surface flaws (e.g., a blemish on the face, a scratch on the rim) that didn't affect the paddle performance in action.
Nonetheless, those who contacted customer service were pleased by responsive assistance. We read reports of broken paddles under warranty being quickly replaced.
Such flaws included several incidents where the edge guard came loose and separated from the paddle's body after a few weeks or months of use.
The manufacturer has a 60-day return policy as well as a one-year warranty.
Features
Average weight: 8.0 ounces
Weight range: 7.9 to 8.3 ounces
Grip circumference: 4 ¼" (medium)
Grip length: 4 ½"
Grip style: perforated cushion
Grip manufacturer: Winn Dry Tac
Paddle length: 15 ¾"
Paddle width: 8 1/8"
Paddle face: graphite
Core: polymer honeycomb
Edge guard: 1/8" overlapping paddle face
Made in the USA
USAPA/IFP approved for tournament play