The Quilo QE1SKS is a high-quality solution if you need to cool down your living or office space. Made by Quilo, a reputable company with excellent customer service, this unit features a honeycomb irrigation system, which can rapidly reduce the temperature of surrounding warm air, and transform it into a moist, cool breeze.
This unit is perfect for smaller spaces such as your bedroom, dining room, living room, or play area. It has three cooling speeds to choose from and an automatic off timer so you can leave it on during the night.
The Quilo QE1SKS is a great addition to any home because it features capabilities of three separate appliances in a single compact unit which saves you energy. It consists of a fan, an evaporative cooler, and a humidifier.
But guess what: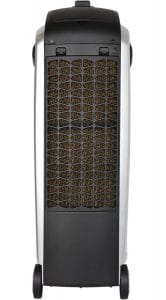 The fan also enables you to mimic a lovely natural lake breeze right there in your own home. The fan is incredibly silent and the quiet mode on the unit uses as little as 7.4 W – which is around the same amount of energy your tablet uses when it's plugged in. What makes it even more energy efficient is that this unit doesn't require either a heat-producing compressor or refrigerant gas.
The evaporative cooler mode of the unit also works like a charm, reducing the temperature in your living area.  The Quilo patent-pending motor inside the unit maximizes airflow while minimizing energy consumption. The airflow and moisture mechanism can be easily controlled, which means that the evaporative cooler can easily transform into a humidifier in the winter.
Another useful feature of the Quilo QE1SKS is a lovely low-energy LED light, which users say creates a nice glow in the dark, and it's also used for viewing the water level in the tank. This is just one of the features that make this unit easy to maintain. It also has a low water level alarm.
There's more:
The water tank in this unit can be easily removed for cleaning, it has a 1.85 gallon (7 liter) tank capacity, and there's a filter that prevents dust and other particles from entering the tank. Ice can easily be added to the top tray, so the unit lowers the temperature of the space even more. The unit also features rollers, so you can easily move it around.
There are a few downsides to this cooler. Namely, it cannot be used outdoors. Also, some users have reported that filling up the water tank can be inconvenient.
Features
Portable
Dimensions: 12.4 x 9.8 x 28.9 inches
Fan + evaporative cooler + humidifier
Indoor use
Cooling capacity: 130 sq ft
3 cooling speeds
5-hour off timer
Quiet mode uses only 7.4 W
Removable water tank with water filter
Low water alarm
Energy-saving LED light
Features rollers