The Pulse Performance Products GRT-11 Electric Scooter seems to be another scooter more geared toward kids. Most feedback was from parents and grandparents of children ages five to eleven.
Nonetheless...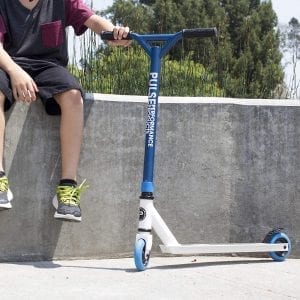 This scooter is sturdy, strong, and holds riders weighing up to 120 pounds. It's "zippy but not too fast," easy to ride, easy to handle, and easy to stop. Overall, this model is well suited for beginning scooter riders.
With a top speed of eight mph, it's perfect for riders not in a hurry.
And...
The battery is adequate. Thouhg, some users wish it would hold a charge longer than an hour.
One person describes the scooter as "underpowered" because it couldn't propel a 60-pound passenger up an incline.
Although easy to assemble, the scooter seems to have issues with parts and quality.
Two people report kickstands breaking soon after the scooter's first use.
Several note the scooter arrived damaged.
Finally, some users state that despite lack of roughhousing, the scooter or its parts broke shortly after early rides.
See for yourself the quality and functionality of the Pulse Performance Products GRT-11 Electric Scooter in this video review.
Features
Maximum rider weight: 120 pounds
Minimum rider age: 8 years old
Motor: 80 watts, chain driven
Battery: 12-volt
Ride time: up to 50 minutes
Speed: up to 8 miles per hour
Brake: Rear foot brake with electrical cutout switch
90-day limited warranty