Steel frame construction and portability are the two top priorities of this company. This is one of the reasons why Protocol claims its equipment is always sturdy and easy to carry.
This pair of sawhorses can support up to 2600 pounds and are primarily constructed of durable steel. The unit features galvanized folding legs.
However…
We feel the sturdiness of this product is a disappointment, especially considering how important that factor is to Protocol.
Anyway…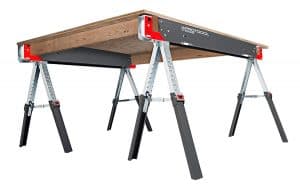 You can adjust the height of the unit as per your liking, which we think is a good addition to this sawhorse. Also, the range by which the user can switch the height is 22 – 32 inches, which is better than most competitor sawhorses available in the market.
Overall, we don't love this product as much as the other models on our list mainly because of how much people have complained about its sturdiness and weak work support. The legs of this product have been known to skid at times, which is a really unfortunate issue to have in a sawhorse.
A lot of users have also complained that the packaging of this product is quite a bit of a hassle.
Features:
Pair of sawhorses
Folding galvanized legs
Supports weight of up to 2600 lbs.
Adjustable height of 22-32 inches
42-inches wide work area