Every drummer uses an assortment of sticks and mallets, regardless of what style or specific instruments they play. A high-quality stick bag can make a great gift for a drummer, not only making it easier to transport sticks to gigs safely but also helping to keep all those sticks better organized both on the road and at home.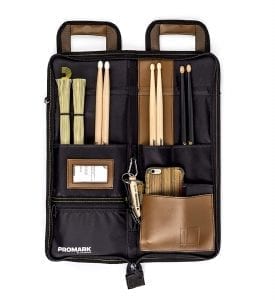 This deluxe stick bag from Promark is made from a waterproof nylon material guaranteed to protect drum sticks from the elements. It's designed to withstand all kinds of rigors without wear, rips, or damage. It's certainly far more road-worthy than a basic stick bag, and with more aesthetic appeal to boot. Rounding out the design are the attractive synthetic leather accents, metal tom mounts, and two carrying options (a handle on the top and a strap on the side).
Along with the main stick area, this bag also has all the pockets the drummer will need for their gear. The main pocket on the front has a zipper closure and is plenty large enough for tools, metronomes, and other necessary supplies. There is also an interior pocket with a zip closure, along with a smaller leather pocket that's great for holding a wallet or phone during gigs.
Having all of these pockets doesn't just help a drummer stay organized during their gigs. It also keeps metal tools like drum keys separated from the sticks during transportation. This is especially important for extending the life of sticks with a classic wood tip, which are more likely to be affected by nicks and dings.
This is one of those great gift options that's both stylish and practical. The sleek design will be appealing to drummers of all stripes, while the combination of storage options for the sticks and gear give it far more versatility than the standard stick bag. The little extra features add up to make a big difference. You'll be guaranteed to make any drummer happy when they open up the Promark Transport Deluxe.
Features:
Length: 18"
Width: 7.5"
Material: Ballistic nylon and synthetic leather
Pockets: 4