We'll give you three guesses to figure out why this one made the top of our list.
Yep, it's the incredible amount of space!
We love this cage because it's a perfect fit for any type of hamster, and while it does have a sweet upper level for your ham to hang out on and look down upon the common folk, it doesn't go crazy on the accessories.
That means plenty of room for a Syrian-sized wheel or hamster playground equipment (yeah, that's a thing)!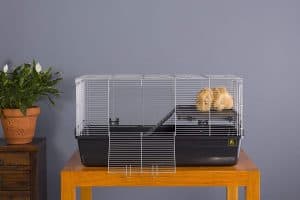 Another great feature on this one is the deep plastic tub base. This way you can stuff the cage full of bedding without worrying about it getting all over the floor when your hamster goes tunneling around, doing his hamster thing.
And when it's time to clean the cage?
Just detach the base and dump the dirty bedding in the trash. Easy as that.
But, um, make sure to take your hamster out of there first.
All in all, we think the Prevue Pet Products Universal Small Animal Home is a sturdy, spacious choice that'll make any ham happy as a clam.
(Get it? Ham. Clam. Rhyming.
Listen, we take what we can get.)
Features:
Ramp and upper level
Deep tub so that bedding stays in the cage
Two separate entry doors
Dimensions: 32 ½ x 19 x 17 ½ inches
Weight: 14 lbs