Why should ferrets have all the fun? The Prevue Feisty Ferret Cage is great for feisty guinea pigs as well. It's spacious with lots of room for toys, two levels (connected by a ramp and each with a ramp and a balcony), and even a hammock.
Held closed with strong latches, two sets of doors (one for each level) open up entire sections for easy access and cleaning.
People do wish each level has a side wall to keep pee and poo from splashing out.
What's not to love?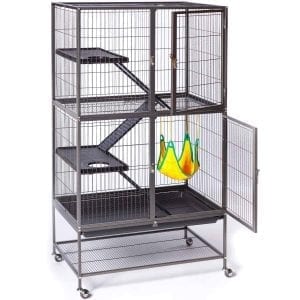 Unfortunately, the floors of the Prevue Feisty Ferret Cage aren't great for guinea pigs. They're wire and of course, guinea pigs shouldn't be walking on wire all the time.
Also, you'll have to pile lots of bedding on the bottom tray–which is located below the first level's wire floor–in order to create a layer thick enough for burrowing.
Owners suggest clever workarounds, like moving the bottom tray on top of the first-level wire floor and lining the second level with a thick blanket.  Then line both levels with bedding.
Some good, some not
We encountered contradictory opinions in two areas: assembly and metal.
Some users found the Prevue Feisty Ferret Cage easy to assemble while others didn't. Click here to see for yourself if the directions are clear.
For more assistance, watch this video on how to assemble this unit.
Heavy metal?
Some buyers describe the cage as sturdy with quality metal.
A few think the powder-coated metal is cheap and even one owner says the gray metal bars turn black permanently when they come in contact with urine.
Features
Wire spacing: 7/8"
Cage dimensions: 31" long x 20" wide x 41 ½" high (54" on stand)
Platform dimensions: 20 3/8" x 7 7/8" x ¾"
Ramp dimensions: 15 ¼" x 5" x 1/8"
Shelf storage area and caster wheels