A compact "mighty powerhouse," the Presto 07211 Liddle Griddle is the perfect size for individuals (and couples) and takes up little counter- and storage space. This small electric griddle may too petite for families of four or larger. This portable griddle is light and convenient to tote along when traveling and camping.
Does size matter?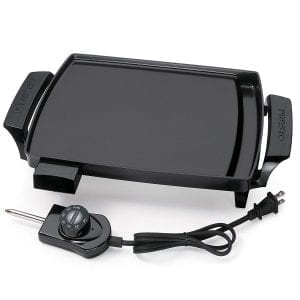 Maybe not. It's still effective for cooking a variety of foods like hash browns, sausages, grilled cheese, quesadillas, burgers ?, pork chops, steaks ?, and chicken breasts. This model's 8½" x 10½" cooking surface accommodates a couple of servings (e.g., two eggs ? ? and two slices of French toast) simultaneously. Four silver dollar–not regular, medium–pancakes ? can fit on it.
The Presto 07211 Liddle Griddle heats up quickly and evenly. Its heat control automatically maintains a constant temperature across the cooking surface. Some cooks notice variations in temperatures, but the differences aren't drastic (e.g. 390ºF in one corner, 400ºF in another).
Be careful
One concern is this electric griddle actually gets too hot ♨. A red light turns off when the griddle reaches the desired temperature. However, no other light comes on indicating when the griddle is hot (except during preheating) when it's on or off.
Also
Users describe the handles as "a bit flimsy" and "loose" and the cord ? as too short.
Owners love the built-in grease tray that catches drippings and crumbs. Although this tray helps keep the cooking area clean, it's not removable for washing separately.
Speaking of washing…
Although the Presto 07211 Liddle Griddle is fully immersible and dishwasher-safe with the heat control removed, many owners prefer hand washing or wiping it. After being run through the dishwasher, the griddle's bottom can discolor and turn users' hands ?gray upon touch. Overall, clean-up is easy and quick.
The Presto 07211 Liddle Griddle is reliable, durable, and resistant to peeling or chipping. We read reports of this model being used (sometimes daily) up to nine years! In fact, numerous people bought a second one for themselves as a backup griddle or for others as a gift ?.
Features
Cooking surface: 8 ½" x 10 ½"
Dimensions: 15 1/2" x 10" x 2 ½"
Weight: 2.90 pounds
Temperature range: Warm to 400ºF
Heavy cast-aluminum base
One-year limited warranty