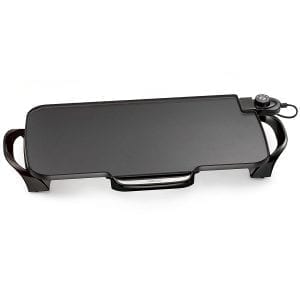 A "great value," the Presto 07061 22-inch Electric Griddle has an expansive cooking surface large enough for making at least eight medium pancakes ?at once. This model also cooks eggs ?, bacon ?, chicken breasts, seared meats, patty melts, quesadillas, grilled cheese sandwiches ?, and more.
Smooth operator?
The nonstick surface is slightly textured with little diamond shapes, which most users don't mind. A great cooking utensil to use on the nonstick plate is the OXO Good Grips Silicone Flexible Pancake Turner/Spatula. Some cooks who notice patterns on pancakes don't like the surface's texture. A few people also find the griddle to be "thin" and prone to bowing in the middle.
Feel the heat
For the most users, the Presto 07061 22-inch Electric Griddle heats up quickly and evenly. The automatic heat control maintains a consistent temperature ?. The griddle sometimes can be a bit uneven in cooking (e.g., hotter over the heating element), resulting in striped pancakes ?, etc.
But listen
To minimize "unevenness" of heat, allow the Presto electric griddle time⏲ (five to ten minutes) to preheat to the target temperature. One cook advises starting off at a low setting, then gradually increasing the heat to the target temperature.
The Presto 07061 22-inch Electric Griddle comes with a convenient slide-out drip tray for catching grease. Several customers report the griddle is too level and flat (i.e., not angled), preventing the grease from draining well into the "cheap plastic" tray.
Actually,
Although the Presto griddle is fully immersible with the heat control removed, many owners opt to hand wash or wipe it–its nonstick textured surface is easy to clean. The drip tray and removable handles are dishwasher safe. The detachable legs and handles make this model easier to put in the dishwasher and store.
Features
Cooking surface: 22" x 11.5"
Heavy cast-aluminum base
One-year limited warranty