This premium 12-inch rain shower head by Happy-li is a luxury product with a classic stainless steel 304 chrome finish that enhances the look of your bathroom. The ultra-thin unit comes with 196 high-pressure silicon nozzles.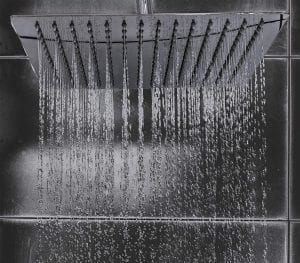 This shower head is very easy to install with little or no need for any tools.
However:
The swivel ball of the unit has a drawback. It's not easily adjustable and has a limited range of motion. This, however, can be overlooked considering the large 12-inch shower head's spray is pretty hard to miss.
Here's why we still love this one…
The unit comes with an effective shower filter that works as a regulator to restrict the water outflow to 2.5 gallons per minute. It also comes with 10 spare nozzles in case the original ones get damaged. We also appreciated how easy the nozzles are to clean.
This product doesn't come with the installation arm and we found that the uniqueness of this shower head becomes a hiccup for many customers as they have to buy an external shower arm to make their product work.
Features:
Best Shower Experience - covers all of your body and creates a remarkable refreshing sensation.
Luxurious Shower - Elegant, large, square 12" by 12" plate, the perfect size.
Elegant Design - Ultra Thin, 2 mm thick, extra shiny Mirror finish.
Top Quality Materials - Stainless Steel 304 with polish chrome, highest rust resistance.
High Pressure Stream - 196 of the best quality silicon nozzles, perfect stream and easy to clean.
Easy To Install - Seconds to install, no need for any tools or Teflon tape
Adjustable Connector - Strong and stable for any angle you like.